Travertine Stone
Nowadays, Travertine stone has become one of the best choices to be used in buildings, specifically in facades and wall cladding with a wide variety of characteristics and textures. Travertine is also used to produce stone products such as stonemasonry, sculptures, fluted column, cornice, pillar capital, flowerpot, etc. Vazin Co. provides Iranian travertine with the best quality and fair price. Read more about the travertine stone at the bottom of the page. In addition, you can download the Travetine PDF Catalog.
Showing all 15 results
---
As for the types and prices of travertine, read the topics below:
Table of contents:
Travertine is one of the sedimentary rocks composed of sediments from hot springs. This stone has a very beautiful appearance, and its various designs reflect the beautiful nature of the stone. It is used as a material in the building (facade – wall – floor) and in stone artifacts (sculpture – stone masonry craft  – fountain – handrail, etc.)
Another name for travertine is Lapis Tiburtinus, and its name is derived from the ancient city of Tibur, now known as Tivoli. Its origin dates back to earlier than the Roman Empire.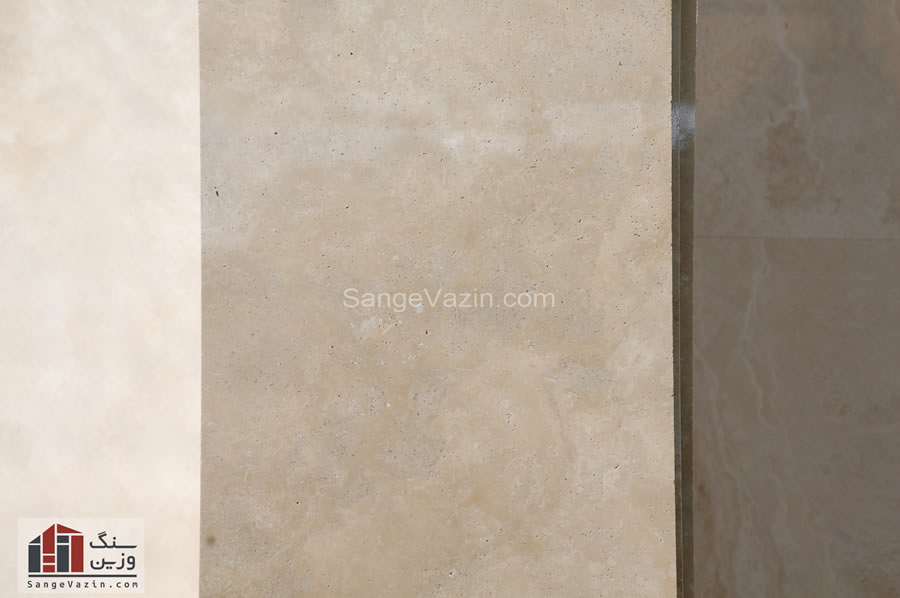 ---
Texture and Characteristics of Travertine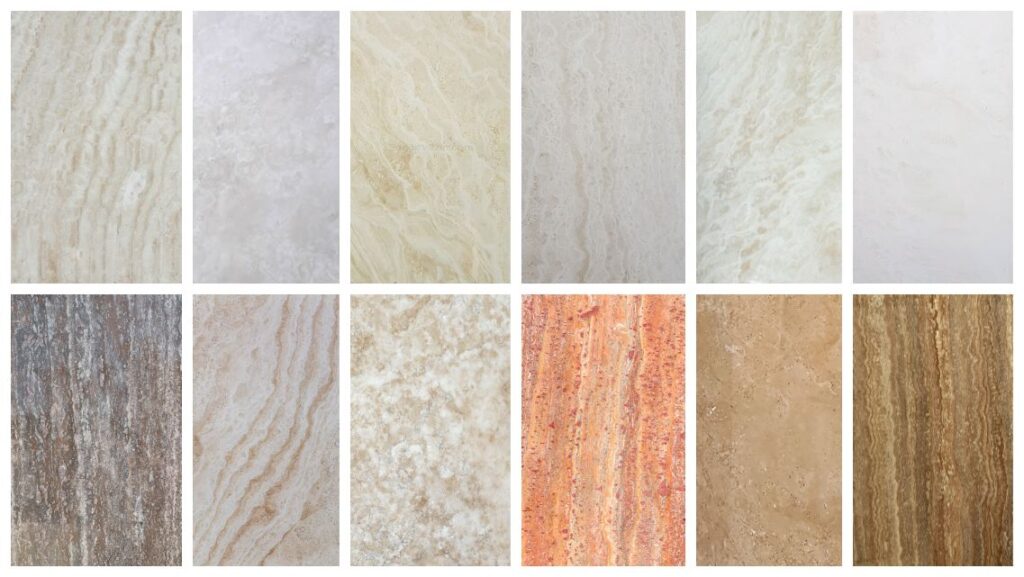 Travertine stone, with a specific density of about 2500 kg/m3 with either striped texture or without texture, is found in nature in white, chocolate, light and dark cream, yellow, red, and lemon colors.
Travertine consists of many holes and pores and acts as a relative insulator against sounds and heat. The use of this stone as the exterior of a building is so popular, and one of the main reasons is its resistance and great strength against sunlight, heat, cold, humidity, and acid rain.
Travertine is most commonly available in tile form with a width of 40cm (and different lengths) for facades and floor installations.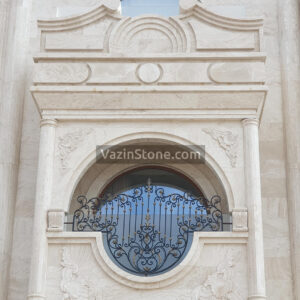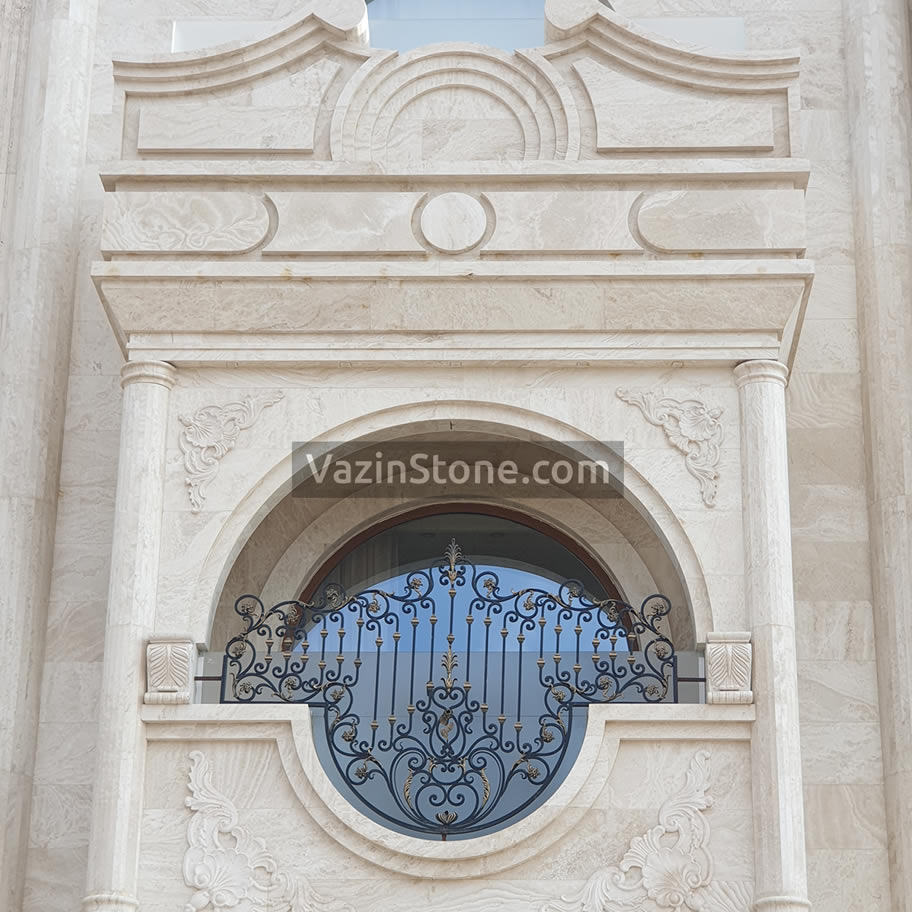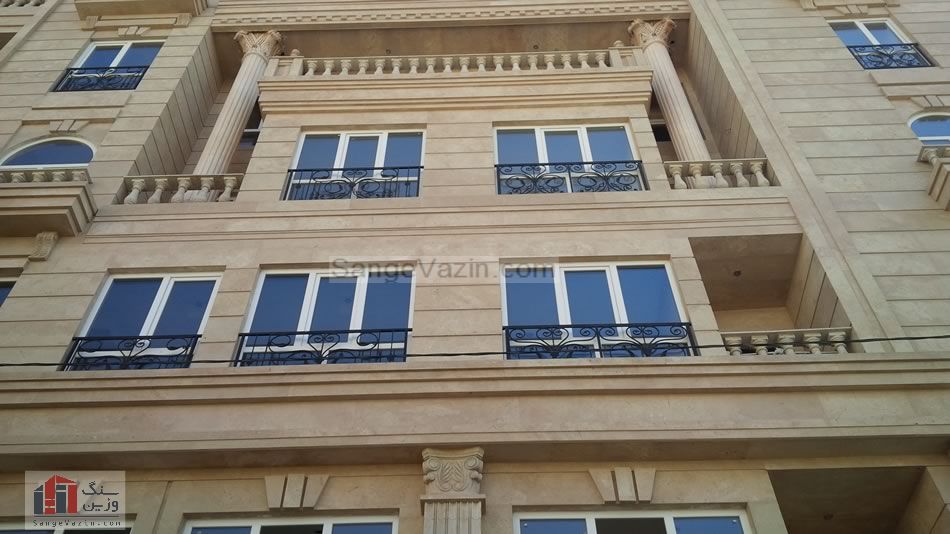 ---
Usages of Travertine Stone in Building
Here are some of the most common uses of travertine in projects by residents and builders:
decorative as wall cladding (in the form of stacked stone)
Stonemasonry crafts
External wall cladding (yard – parking lots) and landscaping
Covering the internal walls of the building's common areas (corridor – staircase – lobby)
inner wall coverings of commercial complexes
Capstone (a piece of stone placed on the wall or the edges of the facade)
Indoor and outdoor floor covering (rarely)
Stonemasonry crafts in facades, especially in Roman-style
Travertine Stone Slab
This stone has a warm nature with features such as lower weight, higher adhesion, and, often, wavy designs in which a traditional and rustic effect is seen. Travertine slab is mainly used in walls and interior facades.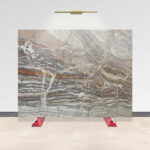 Although there is a wide variety of travertine quarries and types in Iran, the processes operating on travertine play a pivotal role in its usage. For example, travertine stones could have various thicknesses based on cuttings. Each use of travertine in wall cladding, facades, stairs, and floor needs a standard thickness. For instance, the thickness of stairs should be about 3 centimeters, and that of façade stone should be between 1.6 to 1.8. Unlike most other types, this stone can be used both indoors and outdoors.
---
Disadvantages of Travertine Stone
low resistance to acidic conditions
possibility of breaking in a freezing climate(it has been proved by covering the hole of the surface with resin)
none uniformed textures of some sort.
Advantages of Travertine Stone
Attractive interface with a variety of colors and textures.
Good resistance against cold and hot climates.
Good isolation for heat and sound because of the holes inside.
Anti-slip for flooring because of pitted holes and troughs on its surface.
Beauty, durability, and long life.
Numerous porosity and holes in this stone's texture, make the building's overall weight lighter and its high adhesion to the mortar.
Resistant to sunlight, acid rain, cold, and heat.
Having a transparent, natural appearance in various, gorgeous designs and giving the building a stylish and luxurious look.
The best option for a combined facade with bricks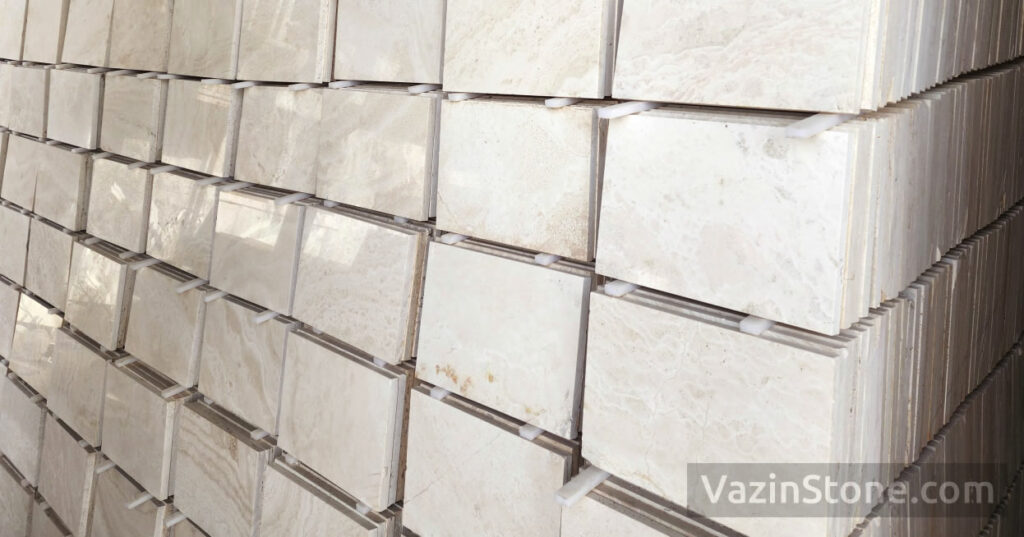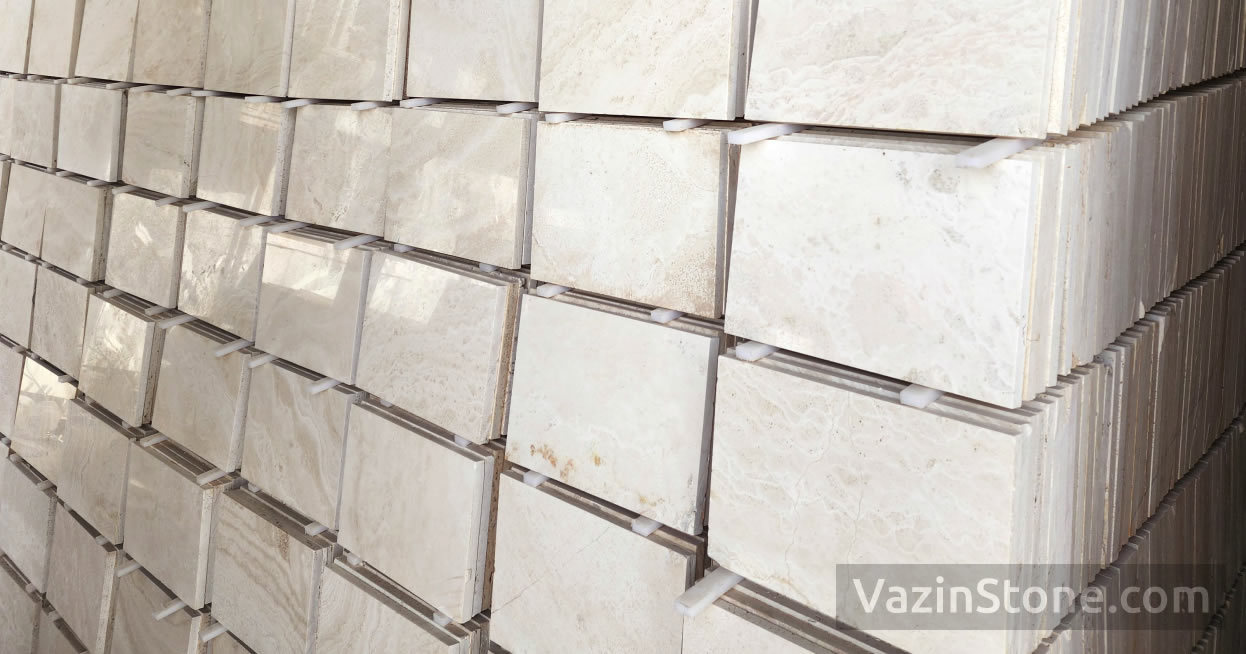 ---
Most Popular Types of Travertine Stone


---
Price of Travertine
The price of travertine stone depends on the items below:
Color of travertine;. The lighter, the more expensive. Visit the three best travertines
Veins of travertine with very different and opposite colors; the less streaky, the more expensive
The cutting sizes; the larger width and length, the more expensive
The processes done on travertine; A good finish with a shiny surface is bound to be more expensive
Fewer pitted holes, especially on its surface, increase the price.
The price range of Iran travertine is between $10 – $130 depending on the stone quarry and sort.
Any type of Iran travertine stone has been exported from quarries of Abbasabad, Haji Abad, Azar Shahr, Kashan, Darre Bokhari, and so on.
---
Keep these points in mind when buying Travertine stone
There are some important tips that you should bear in mind when buying travertine stone. These are:
Consider its epoxy quality and note if the surface process (getting dry the resin and epoxy) has not been done in the furnace. (Drying the surface of epoxy or resin should be done under sunlight and at natural temperature. Otherwise, it'll cause the stone to lose its lightness over time)
Pay attention to the quality of cutting and edges
Notice all pieces to be homochromatic
Check and calculate the cost of the stone at the destination.
In order to gain your 100% satisfaction and due to some unpredictable happenings like breaking and such, Vazin company will send at least 1% more material than your travertine order without any extra charge.

this offer also includes all stone veneer types and sizes like onyx, marble, granite and etc.