Maybe no one couldn't think that Basalt Stone would become popular among people with this appearance. But this volcanic rock surprised everyone and became popular in early 2021. This porous stone has high resistance, which can be used in the walls and floors of indoor and outdoor spaces. This gray stone can be combined with crystal marble and used in the staircase. With modern and hidden illumination, not only can saving money, but also it can give a stylish look to your building.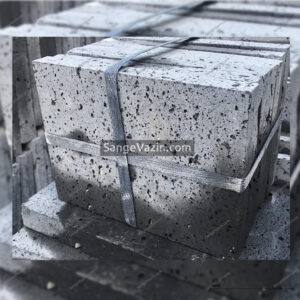 Features Of Basalt Stone
The porosity of this stone can increase the effect of an exposed cement or concrete surface.
The mines of this stone are in Hamadan and Mako, Azerbaijan.
The fibers of this stone are used to produce stone wool. In this way, first, the stone is melted in the furnace, then it turns into fibers.
This stone is produced in three types: polished – honed – grooved.
Basalt stone can be a resistant stone for floors, walls, and interior and exterior facades as stone tile and any other sizes.
Due to the volcanic nature of this stone, it is sometimes included in the granite stone category, called porous granite.
Due to this stone's high friction and high resistance, it can be an excellent option for the parking ramp.
The mechanism of Basalt stone formation
Basalt rocks are usually formed when the volcanic basaltic Lava rapidly cools from the deep interior of the earth's crust and gets exposed to the earth's surface, and extrusive igneous rocks are formed. Sometimes red and orange colors appear on these stones, indicating corrosion. Sometimes due to the movement of rocks in the ocean boundaries, magmas find a path and erupt from the earth on the oceans. These magmas eventually create pillow lavas. Since all these events happen at the bottom of the sea, volcanic ash and gases will dissolve in the water. In warm ocean areas, magmas come out of the bottom of the oceans. With successive eruptions, magmas increase and convert to islands.
The advantages of Basalt stone
Basalt stone is used in various industries due to its abundance. The advantages basalt stone is valuable and widely used in construction industries.
The following are the advantages of basalt stone:
It is very durable and has fantastic longevity.
It is compatible with the environment due to its non-toxicity.
It has high resistance to water and moisture.
It absorbs carbon dioxide in the air.
It has strong adhesion to all kinds of building materials.
All about Granite Stone