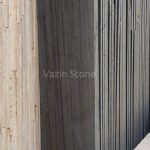 Natanz Black  Granite has a black background color. In some cases, the backgrounds are a little different. This stone is very resistant to cold, heat, weathering, sunlight, and a harsh user environment. Today, epoxy materials are used to make this stone more attractive and effective.
Uses of Natanz black granite
This beautiful stone with its uniform texture is a good choice for indoor and outdoor usages such as flooring, wall cladding, stairs, yard floor, parking lot, and floor of commercial and office units.
According to your decoration style, if you want to use a black stone, Natanz Black Granite could be one of the best choices. The combination of this color with other opposite colors like white, light, gray, or even dark gray would make a beautiful interface.
Natanz black granite is very resistant to chemical materials and has the least amount of discoloration and corrosion. It is also an antibacterial stone that prevents the accumulation of infection and does not allow the growth of fungi and mold. so it can be used in the kitchen and laboratories as a cabinet stone panel.
It is also produced in different types such as: filmed and cubic, which is used in parking ramps and sidewalks.
The price of  Natanz Black Granite
The price of Natanz black stone depends on the following factors:
Uniformity of design and color
Processing quality in production and being a bag
Requested size
Thickness
This stone has a higher price than other granites due to its unique color and high quality.
Natanz Black Granite Mine
This stone is from the Natanz Granite mine, which is in Persia(Iran). It is one of the oldest mines located in Ureh village in the Central District of Natanz, Isfahan, Iran.
You can visit our website on SangeVazin for more different types of building stones and stone facades.
All about Granite Stone