The Mandana Stone Fountain can be likened to a mirror and a candlestick. This prefabricated fountain consists of a wall similar to the Farimah fountain with two lower columns separately on both sides. The overflow of water in this waterfall flows in all three parts of the walls and columns.
The pool of this fountain is rectangular, which is secretly illuminated. This fountain is a wall fountain that should be placed next to the wall.
The beautiful lighting of the central wall and the two pillars that stand like a candle next to it, along with the pool full of water with hidden lights below and the reflection of the waves with the lights at night, create a very eye-catching and beautiful view.
Specifications of Mandana Stone Fountain
The stone of this fountain is made of Abbas Abad travertine. The glossy and transparent surface of the travertine in this fountain has made it more beautiful and also easier to clean and maintain. The dimensions of the inscription or the wall of the fountain are 80*130 cm, the pool is 50*130 cm and the height of the columns is 70 cm.
It will be possible to change the dimensions and customize the components of this fountain.
Due to make this product as beautiful as possible, the junction box is completely built into the pond, which is covered by a small cap made of the same type as the fountain's stone. Therefore, no other things like wires can be seen on the fountain's surface. Moreover, two-centimeter stands placed under the fountain have been used to facilitate water draining in the pond for cleaning and moving.
You can see the sample photos of Mandana Stone Fountain below.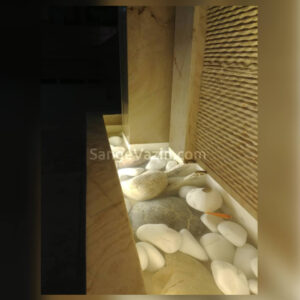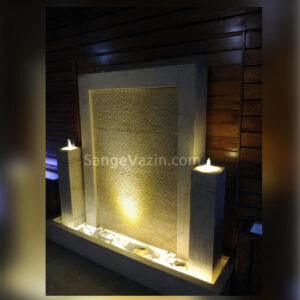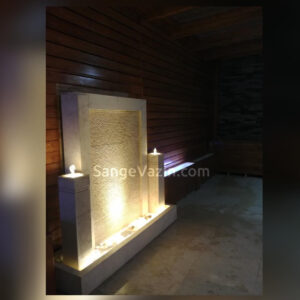 Mandana Fountain Video
All about fountain