Golden Black Marble is one of the marble stones with a black or sometimes brown background with natural gold and white and streaks. This stone is made in the slab, tile, and longitudinal dimensions. The slab size of this stone is trendy. The mine of this marble is in Barzok, near Kashan city in Isfahan province in Iran.
The most important applications of this stone are in paving the interior, facade, interior walls, elevator stone, and sanitary services in residential units and commercial and office centers, especially luxury centers such as hotels and halls.
Golden Black Marble design
The combination of golden and black color with a few white streaks in this stone makes it very beautiful. The golden lines on this stone are exactly the color of yellow gold. The pattern and texture of this stone are unique and unrepeatable due to the product's naturalness. Also, the polished finish and shiny surface make it fancier.
Some Specifications Of Golden Black Marble
beautiful color and textures
suitable for indoor usage
low price
Some Prohibitions of golden black marble
this stone is from marble family stone so, in the outer space, its surface gradually becomes dull and Worn out.
The use of acidic detergents destroys the shiny surface of this stone. The best way to clean this stone is a wet napkin.
The best use for this stone is in the walls and then on the floor of the building.
Golden Black Marble Slab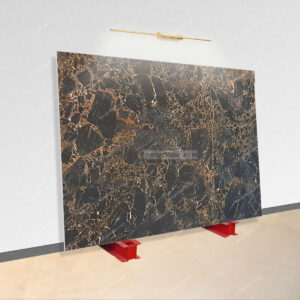 SangeVazin Online store of building stones, offering a variety of stones online
All about Marble stone