Harsin Marble, grade 1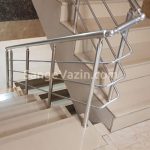 Harsin Marble is one of the most popular stones in the construction industry, which after many years still gives your building a certain splendor and warmth.
Harsin marble stone is available in light cream, beige cream, and light ivory and has incredible beauty and radiance. This stone has high polishability and a more shiny surface, as well as higher resistance than other stones.

Features Of Harsin Marble Floor Stone
This stone will make the space beautiful due to its uniform surface and stylish color.
It has a high glossy surface and is polished.
It has relatively good compressive strength and does not break easily.
It is effortless to clean and Its maintenance will depend on how you use it. in cases where the surface becomes opaque, you can use the polishing machine to make the surface shiny and scratch-free like the first day.
Uses of Super Harsin marble stone
Super Harsin marble can be supplied in tiles, slabs, and desired dimensions. The use of this stone is generally in the interior part of the building and it can be used in all the interior parts of the building. Harsin marble stone is also used for internal paving, internal walls, stair stone, and parking floor of the building.
 The price of Harsin Marble
The price of super Harsin marble stone depends on several factors such as pattern, dimensions, thickness, sorting, and quality of stone processing. Factors such as the requested size and the city where the stone is ordered from also affect the price of the stone.
Super Harsin marble stone quarry is located 26 kilometers east of Kermanshah and near Hersin city and this stone is exported to countries such as Italy, China, Turkey, and Persian Gulf states.
All about Marble stone