The Galaxy Stone Fountain has a round pond where a large sphere is placed on a stand in the center of the pond. The water overflows towards the pond from the center and creates a pleasant and quiet sound of water due to its impact on the stone. Using the white and black pebbles and lighting around the fountain doubles its beauty.
As you can see in the picture, the surface of the sphere and the pond has irregular grooves called broken-cut polishing. This type of processing makes it more beautiful and increases the sound of the water in the sphere.
Features and specifications of the Galaxy stone fountain
The diameter of the pond is 100 cm, the diameter of the sphere is 50 cm, and the height of the fountain is 70 cm.
This fountain is made of Black Dehbid Marble.
Galaxy stone fountain, similar to other fountains of Vazin Stone, has a remote control with adjustable light and water flow.
This product is portable with no plumbing.
Any customizations are available.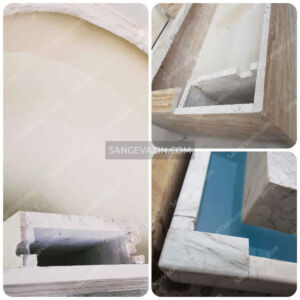 Due to make this product as beautiful as possible, the junction box is completely built into the pond, which is covered by a small cap made of the same type as the fountain's stone. Therefore, no other things like wires can be seen on the fountain's surface. Moreover, two-centimeter stands placed under the fountain have been used to facilitate draining water in the pond for cleaning and moving.
The uses of the prefab Galaxy fountain
This circular fountain can be used in the interior and exterior of the building, which is a suitable option for the following uses.
Yard fountains for houses, buildings, and complexes
Homemade fountain for terrace, balcony, or backyard
Lobby fountain for residential and commercial complexes
Roof garden fountains of residential complexes
All about fountain