Emperador Persian Silk Marble is one of the marble extracted from Iran mines with a distinctive design, beautiful color, and texture. This stone consists of streaks with a beautiful ivory-gray or gray streaks. Emperador Persian Silk marble is cut and processed in large sizes ( slabs ) due to its special color. This stone is also known as the Emperador Stone.
Features of Emperador Persian Silk Marble
This stone can be used to cover the floor and walls of interior spaces in the lobby – corridor – stairs in houses, commercial and office complexes, hotels, restaurants, reception halls, etc.
The influential factors on the price of Emperador or Persian Silk stone are primarily its brightness, various colors, and the requested dimensions. In the next degree, the processing and the requested area will affect the price.
Other things you need to know to use this stone:
Marble stones are often not very resistant to surface lines and scratches. Therefore, placing and pulling hard objects on them should be avoided.
Do not use acidic detergents for cleaning.
If you use Emperador or Persian Silk stone on the floor, we will see a decrease in the transparency of the stone over time. At this time, using the sub-machine, the stone will be like the first day.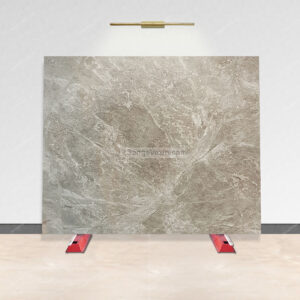 All about Marble stone